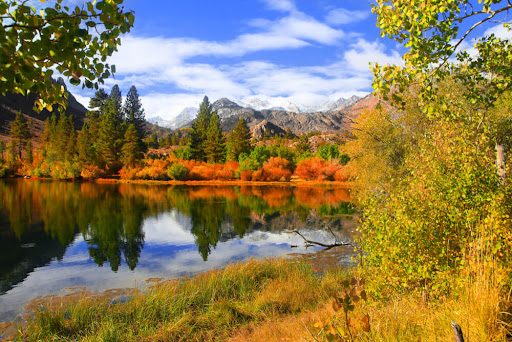 Where to See Eastern Sierra Fall Colors
Nestled on the East border of California, the Eastern Sierra region offers a beautiful fall destination known for its natural beauty, outdoor recreation, and geologic features. Plan your visit around the explosion of Eastern Sierra fall colors and choose Snowcreek Resort in Mammoth Lakes as your base camp. Discover the most awe-inspiring destinations to soak in the splendor of autumn this year!
Mammoth Lakes
Start your journey from Snowcreek Resort and discover fall colors in Mammoth Lakes! Some of the most popular spots include Sherwin Creek, Mammoth Lakes Basin, Mammoth Scenic Loop, and Reds Meadow. Read our blog 5 Best Hikes to See Mammoth Lakes Fall Colors for more information!
Rock Creek Canyon
Rock Creek Canyon is between Mammoth Lakes and Bishop in the John Muir Wilderness. Fall colors usually peak late September through early October. We recommend exploring the Little Lakes Trail for exceptional foliage views. 
June Lake Loop
If you are looking for a fall drive from Mammoth Lakes, we recommend taking the June Lake Loop! Drive past waterfalls, lakes, creeks, and the charming village of June Lake during mid-October for the best views. 
Bishop
Discover a wealth of leaf-peeping opportunities in the city of Bishop and the surrounding canyon, valleys, and lakes. One of our favorite spots is Bishop Creek Canyon, which offers three gorgeous lakes surrounded by mountains and vibrant trees. 
Lee Vining Canyon
Make your way to Yosemite on Highway 120 West this fall and take in views of colorful aspen trees dotting Lee Vining Canyon along the way. Once you arrive at Yosemite's east entrance, you will have endless fall adventures to choose from, backdropped by vibrant maple, dogwood, aspen, and oak trees. 
Bridgeport
Head north of Mammoth Lakes towards Bridgeport and discover the beautiful fall colors surrounding Conway Summit and alpine lakes. Continue your journey north to find more viewing opportunities at Sonora Pass, Walker River Canyon, and Monitor Pass. 
Discover Fall Colors in the Eastern Sierra with Snowcreek
Plan your California fall getaway and discover the magic of Eastern Sierra fall colors near Mammoth Lakes. Snowcreek Resort offers fantastic Mammoth Lakes vacation rentals amidst the captivating beauty of the Eastern Sierra. Book your fall getaway with us today!