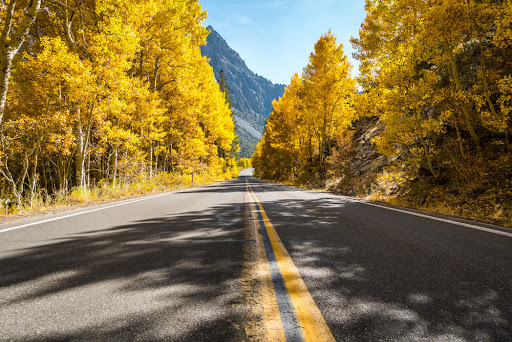 The 5 Best Hikes to See Mammoth Lakes Fall Colors
When considering where to vacation this fall, don't leave California off the list. Even though we have a reputation for sunshine and surfing, several California mountain towns offer an incredible fall season. One of these communities is Mammoth Lakes, offering an idyllic fall getaway in the beautiful Eastern Sierras. During autumn, the mountain's aspens, cottonwoods, and willows erupt in shades of gold, orange, and red. The spectacular Mammoth Lakes fall colors backdrop all your adventures, from hiking to horseback riding and trout fishing. Stay with us at Snowcreek Resort and begin your fall adventure from our resort grounds:
Snowcreek Resort is spread over 355 acres of meadows, trees, streams, ponds, and wildlife. Our on-site trail is in the Snowcreek Meadow, highlighting sagebrush and riparian along Mammoth Creek. After hiking through the meadow, you can pick up the Town Loop Trail for even more hiking opportunities. 
The Town Loop Trail is an eight-mile loop that is the central hub of our local trail system. This multi-use path offers picturesque views of the White Mountains, Sherwin Range, and Mammoth Mountain. This is also the best way to get to various restaurants, shops, and attractions in town, like Shady Rest Park. Take a deep breath and enjoy the crisp scents of sagebrush and pine trees during your hike around town. 
The groves of pine and aspen trees surrounding Convict Lake erupt in colorful foliage during the autumn. This two-mile flat hike offers spectacular views of the Sierra Crest, Sherwin Range, and Mt. Morrison. There are plenty of picnic tables where you can take a break for lunch and enjoy the picturesque views!
Heart Lake Trail is located in the Mammoth Lakes basin, offering a two-mile roundtrip hike. Your hike begins past the abandoned Mammoth Consolidated Mine along a forested path vibrant in the fall. As you ascend, you will be rewarded with beautiful views of the Sherwin Ridge peaks before making your way to Heart Lake.
Even though McGee Canyon isn't technically in Mammoth Lakes, it offers some of the most spectacular fall colors in the area. We recommend taking the McGee Pass Trail, which follows along a colorful aspen-lined creek with mountain views. You will end at scenic Steelhead Lake during this strenuous but rewarding hike.
Plan a Fall Getaway to See Mammoth Lakes Fall Colors
Plan your California getaway today and experience the magic of Mammoth Lakes' fall colors on our scenic hiking trails. We are offering a fall special where all guests enjoy 20% off our nightly rates from August 22 through November 22. Use the code FALL22 when booking to access your savings. Every guest who books with us until the end of the 2022 season will also get a free round of golf at our on-site course. Save big this fall when you choose Snowcreek Resort to host your vacation!