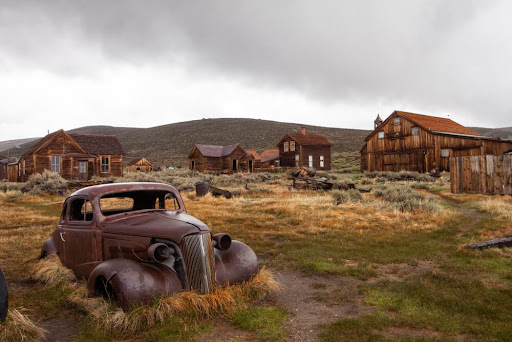 Visit the Eerie Ghost Towns Near Mammoth Lakes
California is known for many things, from Hollywood celebrities to world-renowned wineries, but California is also home to one of the most significant events in American history. The California Gold Rush of the 19th-century brought thousands of people to the state in search of riches. Today, once-thriving mining towns stand abandoned throughout the state, reminding us of a once booming industry. You can find multiple ghost towns near Mammoth Lakes, including the famous town of Bodie and the mining district at Mammoth Consolidated Mine. Step back in time during your California vacation and choose Snowcreek Resort to host your getaway. Visit California and discover the past at these historic sites:
Bodie State Historic Park
The abandoned town at Bodie State Historic Park is one of the most well-preserved mining towns in California. Over two decades, Bodies population erupted to over 10,000 people and included 30 mining sites. This success created a thriving community with hundreds of homes, churches, saloons, a jail, and gambling halls. Today you can walk through the remnants of this ghost town near Mammoth Lakes on a walking tour. 
Please keep in mind that this is a protected historic site, so certain areas are prohibited from the public, and you cannot take anything from the park. Through October 31st Bodie State Historic Park is open from 9 am to 6 pm. In the winter months, the park closes at 3 pm and cannot be accessed by car. However, you can still access the ghost town by skis, snowshoes, or snowmobiles.
Mammoth Consolidated Mine
The lesser-known ghost town near Mammoth Lakes is located in Inyo National Forest at the Mammoth Consolidated Mine. This camp was very small compared to Bodie, with only a few dozen people who made their livelihoods here. That being said, the history of the community that once lived here is fascinating and definitely worth the visit. Located within the Mammoth Lakes Basin, you can see several bunkhouses, the mine owner's log cabin, and the diesel-powered mill. 
You can find a self-guided tour pamphlet at the Mammoth Lakes Welcome Center. 
Mammoth Lakes Lodging at Snowcreek Resort 
When you visit California, we highly recommend taking a day to explore the ghost towns near Mammoth Lakes. After visiting these historic sites, return to Snowcreek Resort and experience the natural beauty of the Eastern Sierras on our 400-acre property. Whether you visit us in the summer or winter, we have ample opportunities to explore the region. Stay in our spacious vacation rentals with keyless access, fully equipped kitchens, fireplaces, washers, and dryers. Join us at Snowcreek Resort and experience everything Mammoth Lakes has to offer during your next getaway.