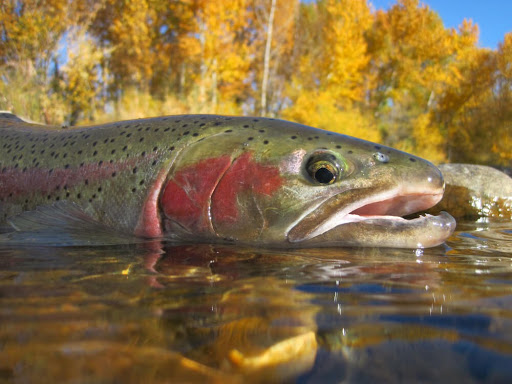 Autumnal Fly Fishing near Mammoth Lakes, CA
Over the coming weeks, the temperatures will begin to dip, ever so subtly, ushering in a kaleidoscope of colors. Every fall, the Inyo National Forest, along the eastern rim of California's Sierra Nevada, transforms from lush, deep green to a meld of marigold and kelly, with the occasional crimson or amber accent. It's an idyllic setting for a fly fishing trip near Mammoth Lakes' top-ranked Snowcreek Resort. Anglers of all ages and skill levels will appreciate the flawless blend of natural beauty, remote acreage, and on-point guided services. If you're planning on fly fishing near Yosemite this autumn, we highly recommend the one and only Kevin Peterson.
Kevin Peterson's
Mammoth Lakes Area Fly Fishing Adventures
With guided fly fishing near Mammoth Lakes ranging from $325 to $525, Kevin Peterson's adventures are a hot commodity during all four seasons. The Inyo National Forest spans nearly two million acres, housing more than 400 lakes and 1,100 miles of backcountry streams. Thus, no two Mammoth Lakes fishing expeditions are alike, especially when you choose Kevin Peterson. Most anglers prefer the eight-hour, $425 fly trip, which includes instruction, lunch, gear, entomology, and a lifetime's worth of memories.
Peterson's team covers a lot of ground, from the Lower Owens River near Big Pine all the way up to the Walker River, which spills into the heart of Nevada. With nearly 40 years of fly fishing experience in the region, Peterson is the symbolic gatekeeper to the valley's many outland streams. Typical targets include brown, rainbow, cutthroat, brook, and California golden trout, as well as largemouth bass and catfish (depending on the destination). Peterson also ushers teams to Northern California in November and December in search of monster steelhead trout.
Self-Guided Excursions: The Mammoth Lakes Basin
The Mammoth Lakes Basin, which lies just southwest of Snowcreek Resort, is an angler's dreamland. With over a dozen individual lakes, most of which can be accessed via a short hike, you'll assuredly find a peaceful position to set up camp for the day. The Basin is regularly stocked with three types of trout: brown, brook, and rainbow. Twin Lakes (which is a trio of lakes, ironically), also boasts a native tui chub population. Lake Mary is a popular boating destination where bald eagles mate. Smaller terminuses, such as Horseshoe Lake, Lake George, and Lake Mamie, provide much more tranquility and just as much underwater action.
Luxurious Mammoth Lakes Vacation Rentals
The perfect place to start and finish each day of fly fishing near Mammoth Lakes is, of course, Snowcreek Resort, one of the region's finest resort vacation properties. Not only does Snowcreek Resort boast the finest Mammoth Lakes vacation rentals, but we're central to the bike park, a Snowcreek Golf Couse, and the area's top-ranked athletic club. Our fleet of vacation rentals is described as "the height of mountain style and comfort." Guests can enjoy free access to the on-site golf course and 30,000-square-foot athletic club, as well as complimentary taxi service to the airport. Oh, and the ski area is within eyeshot of most rooms! To book a long-awaited autumnal escape to the Sierra Nevada, please check availability online at your earliest convenience.