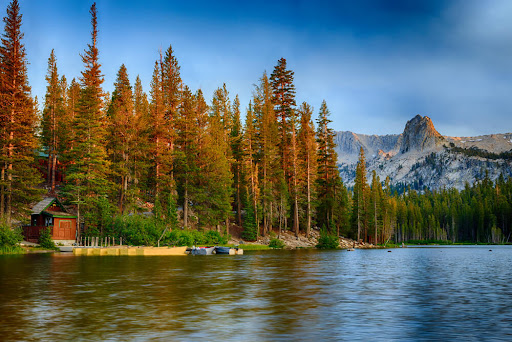 5 Unique Places to See in Mammoth Lakes
Mammoth Lakes may be known for skiing, but our mountain town offers a wonderful year-round recreation destination. During your next visit, we encourage you to get off the beaten path and discover the unique places to see in Mammoth Lakes. From legends of hidden fishing lakes to natural hot springs bubbling to the surface, there are plenty of places that will make your visit to Mammoth memorable. Stay with us at Snowcreek Resort and access mountain adventures right out your front door!
Fifteen minutes south of Mammoth Lakes, you will find a unique result of our area's geology at Hot Creek Geological Site. The hot magma that lies three miles below the surface of the creek results in boiling water bubbling from the creek bed. Witness these natural hot springs for yourself, but remember that the creek is not open for swimming at any time.
You can visit the Mammoth Museum housed inside the historic 1920 Hayden log cabin during the summer. Learn about the unique history of Mammoth Lakes through artifacts, photographs, displays, storytelling, music events, and lectures.
Drunken Bob's Fishing Hole has been a legend among the locals of Mammoth Lakes for decades. The story goes that there is a hidden lake near the trail to Sherwin Lakes where golden trout can be found. Last summer, a few locals set out to see if the legend was true and found the fishing hole for themselves. See if you can find Drunken Bob's Fishing Hole during your visit!
Witness a unique natural phenomenon formed over 600 years ago during the Inyo/Mono Craters eruptions. The fault is actually a fissure that cuts through volcanic rock ten feet wide and 60 feet deep. You can find the earthquake fault on a short .3-mile hiking trail that will take you through majestic forests and past fascinating interpretive signs.
Bodie State Historic Park is just over an hour from Mammoth Lakes, offering a genuine California gold-mining ghost town. Once a booming city of 10,000 people, today, 200 buildings remain in a state of arrested decay for visitors to explore and take pictures.
Plan a Mammoth Lakes Getaway Today!
Take a break from the norm and discover the unique places to see in Mammoth Lakes today! And after adventuring off the beaten path, return to your vacation rental with Snowcreek Resort. Learn how you can save on your Mammoth Lakes getaway on our specials page, and sign up for our email updates to keep in the loop. We'll see you on the mountains!