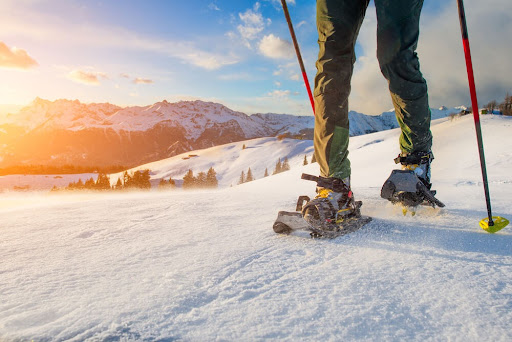 Winter Vacations in California: Snowshoeing in Mammoth Lakes
If you are a lover of outdoor winter recreation, then Mammoth Lakes is probably already on your radar. But, for those of us who picture California as a beachy paradise, you may not realize that world-famous winter recreation awaits. Winter vacations in California offer legendary skiing, snowboarding, snowmobiling, and snowshoeing. Snowshoeing has skyrocketed and has become a popular way to explore the great outdoors in the dead of winter. You can access the best snowshoeing trails nearby when you stay with Snowcreek Resort. Read on to discover our favorite free spots for snowshoeing in Mammoth Lakes. 
Tamarack Cross Country Ski Center
The Mammoth Lakes Basin is one of the most popular places for snowshoeing in the area. The Tamarack Cross Country Ski Center offers exceptional snowshoeing trails, snowshoe rentals, and guided tours. If you want access to over 20 groomed trails, you can purchase a single or multi-day pass before you hit the trails. However, you can also access several trails for free or explore off-trail as well. Here are a few tracks you can explore at Tamarack Cross Country Ski Center free of charge:
Lake Mary Winter Public Access Corridor: You can access this trail from Lake Mary Road and snowshoe for 2.5 miles. On the track, you will see incredible views of Crystal Crag and Mammoth Crest. 

Panorama Dome: From here, you can make your way through the backcountry to the Panorama Dome. Snowshoe through snow capped pine trees until you reach incredible views of mountain vistas. The trail is less than a mile long, so this is an excellent option for families snowshoeing in the area. 
If you want to explore the groomed trails at Tamarack Cross Country Ski Center instead, make sure to buy a daily pass.
Shady Rest Park 
Shady Rest Park is the best place in town to access free snowshoeing trails. Drive to the Mammoth Lakes Welcome Center for a leisurely day on the trails, perfect for beginners or families. The Shady Rest Winter Trails offer gently rolling terrain for a relaxing day snowshoeing in the area. Snowshoeing at Shady Rest Park is the best way to kick off family winter vacations in California. 
Snowshoeing at Inyo Craters
Free public access to more than 140 miles of snowshoeing trails can be found at Inyo National Forest just outside of town. The Inyo Craters are one of the most popular spots for snowshoeing in the forest. The craters are a great opportunity to snowshoe while learning about the fascinating volcanic history of the area. You will also snowshoe past breathtaking views of the Long Valley Caldera and old-growth pine trees. You can find more trails in the Inyo National Forest here for even more free snowshoeing opportunities. 
Winter Vacations in California at Snowcreek Resort
Snowcreek Resort is the perfect place to host winter vacations in California, offering the finest resort mountain living. Mammoth Mountain is just minutes away from the resort, offering miles of snowshoeing trails nearby. Warm up after a chilly day on the trails in front of the fireplace in our luxurious vacation rentals. Start planning your winter getaway in California today, and call us at 800-544-6007 if you have any questions.