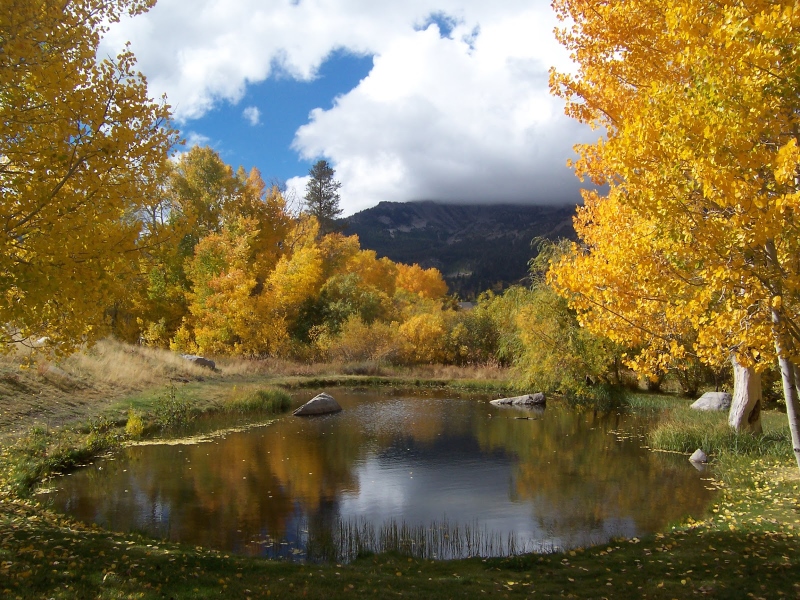 Mammoth Lakes Fall Colors 
Every year, locals and visitors alike flock to Mammoth Lakes to take in the beauty of the season. The Eastern Sierra's canyons and racing streams are decorated in vibrant shades of red, orange, and yellow. For a more local option, Mammoth Lakes features an ablaze of color as well. Enjoy the colorful autumn days when staying at Snowcreek Resort, and visit our staff's top location to see Mammoth Lakes fall colors.   
Mammoth Lakes Basin
Many of the "leavey" trees in the Eastern Sierra region grow near water sources. When the temperatures start dropping, any lake, stream, or river in the Mammoth Lakes Basin is bound to be lined with colorful trees. For families traveling with young children or seniors, Mammoth Lakes Basin is the perfect place for spotting fall colors because there are drive-up accessible lakes. Keep in mind, peak color times vary based on elevation; higher elevations change colors earlier than lower elevations. Plan your visit to Mammoth Lakes Basin with this information in mind.  
Mammoth Creek and Sherwin Creek
Mammoth Creek and Sherwin Creek are home to many groves of Aspen and Willow trees. To see their festival of colors, drive down Sherwin Creek Road. Or, mozy along the Town Loop in Mammoth Creek Park. 
Snowcreek Ponds 
Located near the Town Loop, the Snowcreek Ponds are another great spot to catch fall colors. Many visitors choose to hike the path along Old Mammoth Road. For a longer hike, check out the trail that starts at Mammoth Creek Park and runs past Snowcreek Golf Course. Both trails will lead you to the Snowcreek Ponds. 
Reds Meadow
For a day full of fall colors, head to Red's Meadow. This beautiful area has several trails for visitors to hike. While exploring the trails, you'll likely come across the Devils Postpile National Monument and Rainbow Falls. Some other trails pass by Sotcher Lake and the San Joaquin River. Be aware that the road to Red's Meadow closes for the season in the fall, and the date varies with weather. 
There's no better time to reserve your stay at Snowcreek Resort than today! In honor of Mammoth Lakes fall colors, we are offering autumn specials. Book a two-night stay and receive a 20% discount or book a three-night stay and receive a 33% discount. Take advantage of our fall special; the discounts end on November 26. To learn more information about how you can have the best vacation yet,
visit our website
, or call us at 800-544-6007.