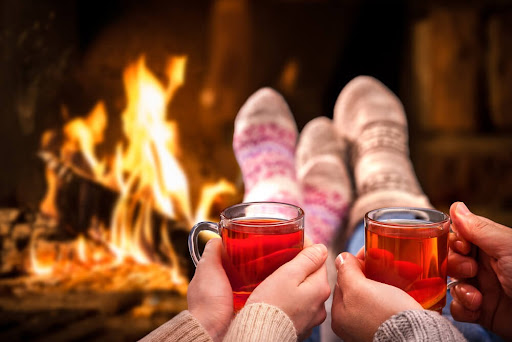 Plan a Romantic Mountain Getaway in California
Mammoth Lakes is well known for its epic skiing and winter sports in the Eastern Sierras Mountains. Even if you aren't interested in winter adventures, Mammoth Lakes offers a hidden gem for romantic getaways. There is something about cold weather that invites cozy days snuggling inside with your special someone. Snowcreek Resort provides a perfect setting for a romantic mountain getaway in California with our on-site spa, beautiful property grounds, and comfortable vacation rentals with convenient amenities. So take a break from the cold weather and enjoy a lovely weekend together full of relaxation and candlelit dinners.
A Romantic Getaway at Snowcreek Resort
The pristine wilderness and natural beauty surrounding our resort are the perfect backdrops for a romantic weekend in Mammoth Lakes. Utilize the fully equipped kitchen in your vacation rental and bake some treats together or prepare a romantic dinner. We supply firewood and pellets so you can enjoy the fireplace in your rental with comfort and ease. Our resort also offers a complimentary shuttle bus to the village for convenient access to restaurants and shopping. Trust us; we have everything you need for a memorable mountain getaway in California! 
Snowcreek Athletic Club
One of the best perks of staying at Snowcreek Resort is the easy access to our 300,000 square foot Athletic Club. Feel your stress and tension melt away with a signature massage at the Double Eagle Spa, or relax in the steam rooms instead. And if you are looking to burn some calories together, then utilize the tennis courts, gymnasium, volleyball, and basketball courts, along with a variety of group exercise classes. 
The Best Spots for a Romantic Dinner
There are several great choices for a romantic dinner in Mammoth Lakes. Dine on delicious seafood while gazing at mountain views at  Jimmy's Taverna. This Mammoth restaurant has an extensive wine and spirit selection that perfectly pair with your meal. You can also treat yourself to delicious mountain dining in a luxurious setting at SKADI. For dessert, check out Rocky Mountain Chocolate Factory and bring back some delectable truffles to enjoy in your Snowcreek vacation rental.
Romance Awaits in Mammoth Lakes
As much as we love winter in Mammoth Lakes, we know that sometimes winter is best spent inside with your special someone. Planning a romantic mountain getaway in California at Snowcreek Resort is an excellent way to spend some quality time together this winter. Spend afternoons strolling through the winter landscape on our beautiful property grounds and evenings sipping on wine in front of the fireplace in your rental. Join us at Snowcreek, and make sure to call us at 800-544-6007 if you have any questions.