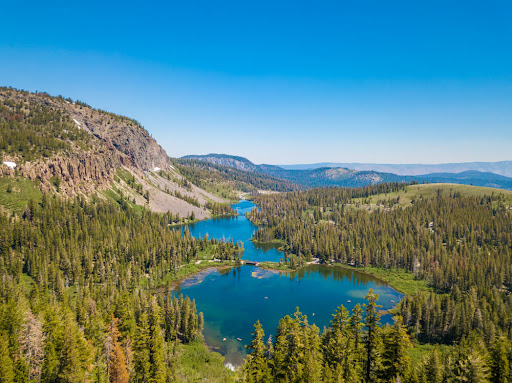 Your Guide to the Mammoth Lakes Basin
As we say goodbye to ski days, we welcome summer adventure in Mammoth Lakes. One of the best places for summer fun can be found in the Mammoth Lakes Basin, offering over a dozen lakes, five campgrounds, and 50 miles of nature trails. Visit the basin for incredible summer fishing, hiking, and paddling opportunities just minutes from downtown. Choose Snowcreek Resort to host your California summer vacation and enjoy a memorable stay in Mammoth Lakes!
Fishing in the Mammoth Lakes Basin
With over a dozen lakes in the basin, there are endless fishing opportunities for anglers! The lakes are stocked with rainbow, brown, and brook trout for the fishing season, open from April through November. Here are a few of the most popular fishing lakes in the basin: 
The Mammoth Lakes Basin is easily accessible through the Eastern Sierra Transit Authority Lakes Basin Trolley. Refer to the trolley schedule to find the best ways to get to our hiking and biking trails!
Paddling in the Basin
Summer is a wonderful time to get on the water in the Mammoth Lakes Basin! The best spots to put in and rent kayaks are Lake Mary, Lake Mamie, and Twin Lakes. Reserve boats, kayaks, canoes, and stand-up paddleboards with Lake Mary Marina, Wildyre Lodge and Boat Rental on Lake Mamie, and Tamarack Bike & Paddle on Twin Lakes. 
Plan Your Summer Vacation in Mammoth Lakes
Start planning your Mammoth Lakes getaway and experience summer fun in the Mammoth Lakes Basin! Snowcreek Resort is the perfect place to host your summer holiday, with more of everything you love in resort mountain living. Explore our 355-acre grounds, get your workout in at the Snowcreek Athletic Club, and enjoy the elevated amenities of your Mammoth Lakes vacation rental. Book your summer trip with us today!