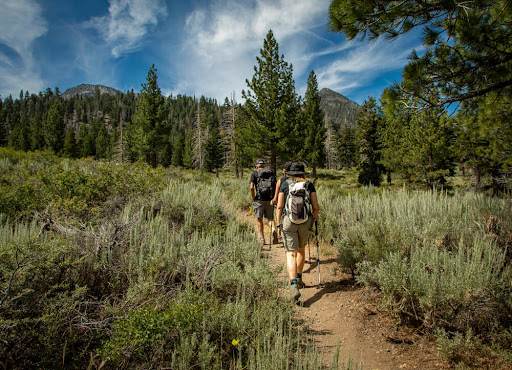 Mammoth Mountain Summer Experiences
As the snow melts away, Mammoth Mountian comes alive with a plethora of summer adventures! Whether you are interested in racing down bike trails, elevating your golf game or kid-friendly ropes courses, there are summer activities for every interest! Stay with Snowcreek Resort and access Mammoth Mountain adventures just minutes away from your vacation rental!
Mammoth Mountain Summer Activities
Adventure Center
Kick off your summer fun at the Adventure Center, with attractions for all ages and ability levels. Enjoy access to a bungee trampoline, climbing wall, kid-friendly bike track, ropes course, and junior ziplines!
Gondola Rides
Take a scenic gondola ride up Mammoth Mountain and take in picturesque views of the Eastern Sierras. Once you are at the top, we recommend stopping at the Eleven53 Interpretive Center and Cafe. This is also a great way to access on-mountain hiking trails without hiking all the way to the top. 
On-Mountain Hiking Trails
Explore the on-mountain hiking trails this summer! If you are looking for a family-friendly hike, we recommend the Discovery Nature Trail, a one-mile loop offering a fantastic insight into local flora and fauna. Or take the Mammoth Mountain Trail from the gondola drop-off and take the five-mile hike back down to the bottom! 
Mammoth Bike Park
Explore Mammoth Mountain on wheels at the adrenaline-pumping bike park! The park offers 80 miles of singletracks with plenty of pavers, berms, jumps, and drops. 
Sierra Star Golf Course
Play a round of championship golf at 8,000 feet on Mammoth Mountain! This par 70-course features rolling hills, incredible mountain views, and towering trees. Or sharpen your skills by signing up for golf lessons with PGA professionals!
Reds Meadow Shuttle 
The Reds Meadow Shuttle offers easy access to some of the top attractions around Mammoth Lakes. Hop on the shuttle from the Adventure Center to get to Devil's Postpile, Rainbow Falls, and Red Meadow (call ahead to find out when the road opens). 
Mammoth Mountain Summer Vacation Rentals
After a day of Mammoth Mountain summer fun, return to Snowcreek Resort. Enjoy even more summer adventures within our resort grounds spread out over 355 acres of meadows, trees, streams, ponds, and wildlife. You can also enjoy amenities at our Athletic Club, including a spa, tennis courts, pools, and wellness classes. Browse our Mammoth Lakes vacation rentals and spend your summer in the mountains!