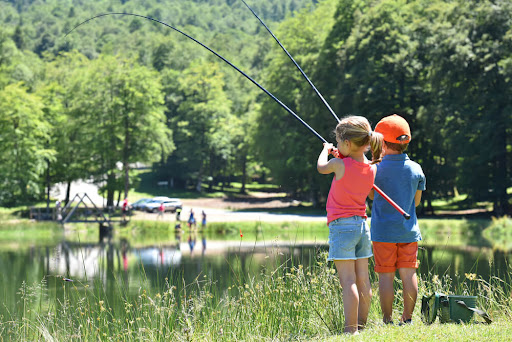 5 Things to Do in Mammoth Lakes: Summer Edition
Summer in Mammoth Lakes offers something for everyone! From the impressive network of biking trails to music festivals and golfing in the mountains, there are endless things to do in Mammoth Lakes during the summer months. And we invite families visiting our California mountain town to stay with us at Snowcreek Resort. Access our championship golf course steps from your vacation rental or use the amenities at our on-site athletic club. However, if you want to spend your summer in Mammoth Lakes, endless fun is just around the corner with Snowcreek Resort!
Snowcreek Resort offers a fantastic alpine golf course in Mammoth Lakes, framed by panoramic mountain views. Our course features nine holes, par 35, and plays over 3,000 yards. Snowcreek Resort guests will save $40 on their golf passes compared to passes available for the general public. Learn about our green fees, equipment rental rates, and golf passes here.
Mammoth Village offers fun events all summer long for visitors. Every weekend in the summer you can listen to live music in the village with Unplugged in the Yard. And families can watch movies in the Village Plaza most Thursdays and Sundays. Summer also brings Mammoth Lakes' most famous music festivals like Bluesapalooza and Mammoth Rocks.
Mammoth Mountain transforms in the summer months as one of the top spots for family fun. Get active and explore over 80 miles of trails at the Mammoth Mountain Bike Park or take in mountain views with a Scenic Gondola Ride. Purchase an Adventure Day Pass and access fun activities like ropes courses, bungee trampolines, climbing walls, and zip lines.
Hiking Trails in Mammoth Lakes
Mammoth Lakes offers spectacular hikes for all ages and abilities. Explore Snowcreek Resorts' 300 acres of meadows, trees, streams, and ponds just steps from your vacation rental. Read our Best Hikes in Mammoth Lakes blog for more ideas, or make a Day Trip from Mammoth Lakes to Yosemite for even more hiking opportunities.
Trout Fishing in Mammoth Lakes
Mammoth Lakes is a paradise for anglers, offering some of the best trout fishing in the world. You will have endless lakes, reservoirs, streams, and creeks to choose from, whether you want to fish from the shore or with a local guide. Popular fishing spots include Lake Mary, Crowley Lake, Convict Lake, and the Mammoth Lakes Basin.
A Family Summer Vacation in Mammoth Lakes
These are five of our favorite things to do in Mammoth Lakes during the summer. You will find even more fun for the family when you stay with us at Snowcreek Resort. In addition to our golf course, guests also have complimentary access to our Snowcreek Athletic Club. Here you can play games together on our tennis courts or cool down from the summer heat in our outdoor pool. Snowcreek offers the perfect place for family fun this summer in Mammoth Lakes!