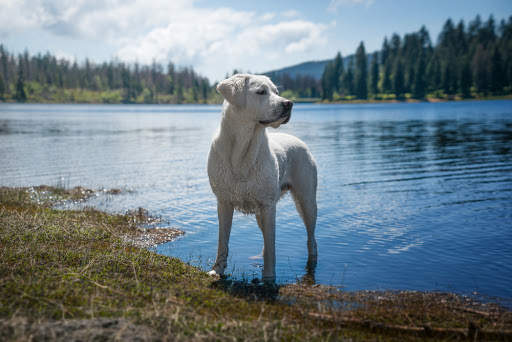 Mammoth Lakes Pet-Friendly Adventure 
If you own a pet, there's no doubt that you consider them to be a part of your family. When it comes to planning a Mammoth Lakes vacation, it can be a little tricky finding a getaway that caters to you and your pet. You find yourself wondering, "Can my pet stay in this resort?" Are they allowed to sit with me in this restaurant? Is there anywhere for my pet to roam free?" At Snowcreek Resort, your furry friends are welcome to enjoy Mammoth Lakes by your side.  
Mammoth Lakes Hiking 
Nearly all dogs love hikes, especially in terrains different than their regular routine. Start with a short walk so your dog can get acclimated to Mammoth Lakes' altitude and terrain. Horseshoe Lake is a great place to visit first. Dogs are allowed to swim in the lake and explore the surrounding beach. It's also a fun idea to hike the surrounded area with your leashed dog. For a more strenuous hike, check out Mammoth Mountain. If your dog is well-behaved, travel to the top of the summit on the scenic Mammoth Mountain Gondola. You'll have beautiful views while hiking from 11,000 feet above the ground.  
Dog-Friendly Restaurants
Don't leave your pet at the resort when it's time for dinner. There are 13 dog-friendly restaurants in Mammoth Lake and counting! These restaurants allow leashed dogs to visit if they're well-behaved. Roberto's Cafe serves authentic Mexican cuisine and welcomes dogs on their garden patio. If you have a taste for pizza, braised pork or fish, check out Campo Mammoth. This dog-friendly restaurant also has a patio for you and your dog. Regardless of the restaurant you choose, we're sure your dog will love a bite of your meal. Bone Appetit!  

At the end of a long day outside, head back to Snowcreek Resort for a relaxing night inside. Not only is our Mammoth Lake resort close to many pet-friendly activities, but our hotel itself encourages pets, which will allow you and your pet to create memories you'll never forget. To learn more information about booking your pet-friendly room, visit our website or talk to our staff at 800-544-6007.