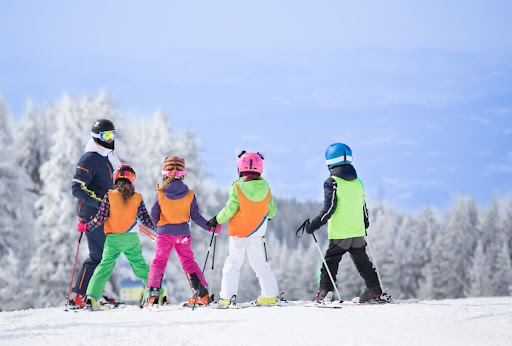 Your Guide to Mammoth Mountain Ski Lessons
Whether you are looking to sharpen your ski skills or are looking for a place for the kids to get introduced to the slopes, Mammoth Mountain is the place for you! Mammoth Mountain ski lessons are available for first-timers, beginners, intermediates, and advanced skiers. Ski schools are available throughout each base lodge, including Main, Canyon, and Eagle. Stay with Snowcreek Resort and connect your family to winter fun in Mammoth Lakes today!
Mammoth Mountain Ski Lessons Guarantee
Mammoth Mountain is one of the top ski schools in the nation, passionate about providing an outstanding learning experience for every student. That's why if you are not completely satisfied with your lesson, you will receive another lesson free of charge!
Kids Group Ski Lessons
Kids group ski lessons are offered for ages three to fourteen, available for afternoon or full-day lessons. The class will focus on skiing fundamentals, confidence, and mountain etiquette. Keep in mind that equipment and lift tickets have to be purchased separately. 
Adult Group Ski Lessons
Adult group ski lessons are available for every level of skier, from beginner to advanced. Group lessons include six people or fewer to ensure everyone has time to hone their skills with the instructor.
Private Ski Lessons
Private ski lessons are the best option for skiers looking for personalized instruction on the slopes. Enjoy more time on the mountain and sharpen your skills with one-on-one instruction from our knowledgeable instructors. 
Lessons + Child Care Package
Only available at Canyon Lodge, this is an excellent introduction to skiing for ages three through four. The day begins with lessons in kid-friendly teaching areas, carpet lifts, and letting kids set their own pace. Afterward, kids will hang out at the Mammoth Child Care facility for lunch, rest, and extra playtime. 
Adaptive Ski School
The Adaptive Ski School on Mammoth Mountain is made possible by the non-profit organization Disabled Sports Eastern Sierra. They bring specialized instruction and adaptive equipment to our slopes to make skiing accessible for all!
Clinics & Development Programs
We recommend the multi-day clinics or season-long programs if you stay in Mammoth Lakes for the entire winter season. Popular clinics include programs tailored explicitly for first-timers, people over 50, women, and advanced skiers.
Mammoth Lakes Winter Getaway Lodging
Escape to the Eastern Sierras and discover the home to family fun in Mammoth Lakes at Snowcreek Resort. After your Mammoth Mountain Ski Lessons, treat yourself to the amenities at our Snowcreek Athletic Club, like spa services and fitness classes. Learn how to save on your next Mammoth Lakes getaway with our specials and discounts.