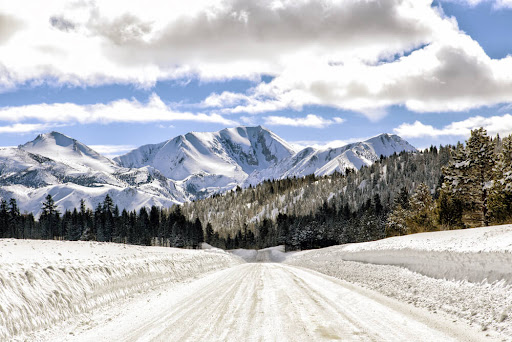 When is the Best Time to Visit Mammoth Lakes?
As a four-season destination, the best time to visit Mammoth Lakes depends on your interests! Love all things cold and snowy? Then winter at Mammoth Mountain is the perfect option for you! Or are you more of a warm-weather lover? Then summer is the opportune time to unlock adventures like biking, golf, and fishing. No matter your interests, Snowcreek Resort is an ideal basecamp for your getaway. Our resort puts you minutes away from year-round adventures at Mammoth Mountain, and our on-site amenities, like our golf course and Athletic Club, keep our guests entertained throughout the seasons!
Winter
Mammoth Lakes winter is best known for the epic skiing and snowboarding at Mammoth Mountain. But there are many ways to embrace the season, including snowmobiling, dog sledding, snowshoeing, and snow tubing. There are also fantastic family-friendly events to plan your getaway around, like Night of Lights and New Year's Eve celebrations.
Spring
Although spring can be unpredictable, there are plenty of reasons why we love this season! Often referred to as "swinter" by locals, you get the best of both worlds, with mornings spent skiing and afternoons spent on the hiking trails. This is the best time to visit if you want to save money, with reduced rates on lodging and lifts. Discover more spring activities on our Best Family Vacation in California blog!
Summer
Our summers are beautiful and ideal for outdoor adventurers looking to embrace the sunshine. Summer activities include hiking, mountain biking, fishing, horseback riding, Yosemite adventures, and golfing. Our resort is home to Mammoth's first and finest golf course, which reopens every summer. Learn how to save on your golf getaway when you reserve your stay with Snowcreek!
You can also take advantage of all Snowcreek Athletic Club offers, including outdoor swimming pools and decks where you can lounge after a day of adventures. 
Fall
If you are interested in witnessing some of the best foliage in California, plan your visit during the fall months! The mountains are set ablaze with red, gold, and orange hues. In the early fall, you can experience most of the same activities with fewer crowds than in summer. The ponds located at our resort offer a fantastic leaf-peeping spot just steps from your vacation rental. 
Visit Mammoth Lakes Throughout the Seasons!
With so many activities available year-round, it's always the best time to visit Mammoth Lakes! Especially when you choose Snowcreek Resort to host your getaway, conveniently located near local activities with access to fantastic amenities year-round. Browse our vacation rentals and visit our specials page to learn how to save on your next adventure to Mammoth Lakes!