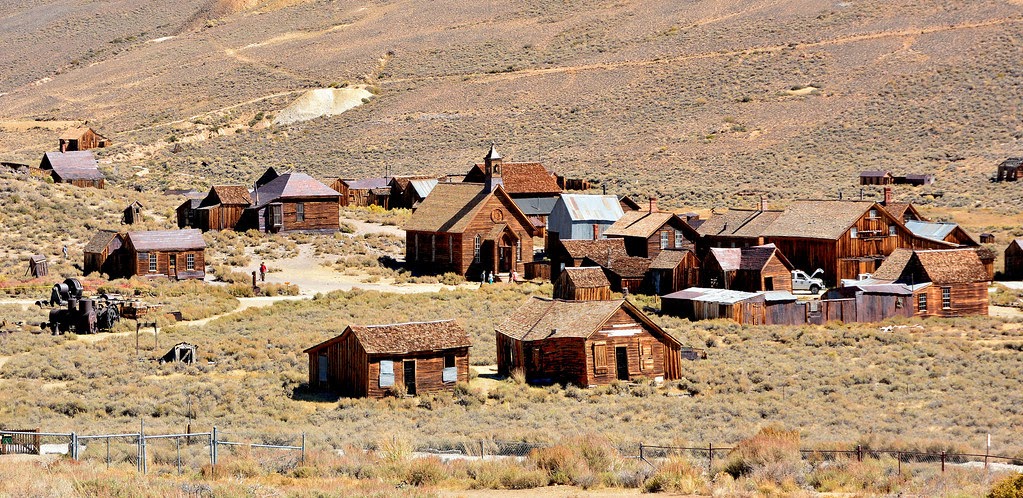 The Bone-Chilling History of Bodie Ghost Town
What comes to your mind when you hear of California? Is it the iconic Hollywood sign perched on the hill? Or maybe it's the larger-than-life redwood forests. Regardless, California isn't commonly known for its haunted buildings, let alone ghost towns. For this reason, our team here at Snowcreek Resort urges our guests to plan a day trip to Bodie State Historic Park—otherwise known as Bodie Ghost Town.
Mining for Gold in Bodie 
Historians can trace activity back to 1859 when mining just west of the Sierra Nevada Mountain Range started to slow down. Workers were forced to venture out and find a new successful location, but one individual, in particular, William S. Bodey, struck gold. Bodey found a site that was east of the Sierra Nevada Mountain Range, which was loaded with gold. However, in 1859, Bodey passed away in a snowstorm before knowing his newly found town would soon be named after him, only spelled differently. Over the years, Bodie Bluff faced several changes during its rapid growth. The bluff's peak success leveled out with 10,000 civilians, 2,000 buildings, 30 gold mines, 65 saloons, and several other gambling halls, brothels, and opium dens. But just like all other things, what goes up must come down.
In 1882, Bodie Bluff saw a rapid decline—the population dropped to 3,000, mining companies went bankrupt, and several local companies closed down. This slump forced Bodie and the Standard to merge and operate a single mine for the next two decades. The workers endured two devastating fires and further depletion of their population due to the Prohibition/Great Depression. There were no new deals, and miners only profited from secondary accounts.
Gold Mine to Bodie Ghost Town
By the time Bodie finished facing all of life's challenges, only six settlers called Bodie Bluff home—all but one died an unfortunate death. The chaos began once a man shot and killed his wife. After news spread to the other men, they approached the killer husband and ended his life. According to local legends, the killer husband would haunt the remaining three men. The three men allegedly died from rare diseases in the 1940s, which earned Bodie the title Bodie Ghost Town. 
Visit Bodie State Park Today
In 1962, Bodie Bluff officially became a state historical park that opened for tourists to explore. Unlike other California museums, Bodie State Park gives guests an authentic look into the town's history. You can't help but stroll the eerie grounds and imagine who once stood in the same place as you over 100 years ago. Bodie Ghost Town comprises roughly 75 buildings that are situated along two main roads. If you look inside of the buildings, you'll notice remains from old businesses and homes. Boone's Store and Warehouse, for example, is still fully stocked with essential goods. The children's school still has cursive words written on the chalkboard, notebooks scattered across desks, and uncanny skull figurines propped on a table.
Snowcreek Resort
After spending the day walking around Bodie Ghost Town, drive an hour back to Snowcreek Resort for a relaxing evening. We have countless activities for you to enjoy during your stay, such as lavish spa treatments, complimentary yoga/pilates classes, pick-up basketball games, lively events, and more! No matter where your interests lie, Snowcreek Resort has the perfect activity for you. To learn more about how to begin planning your Mammoth Lakes getaway, chat with our friendly staff at 760-934-3333.