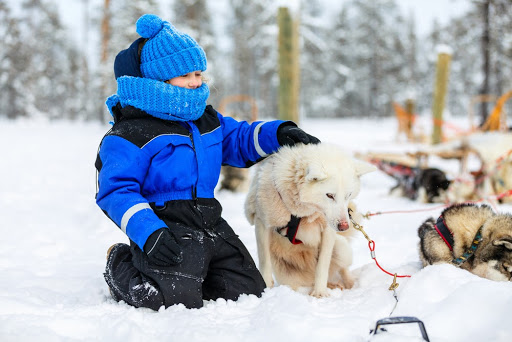 Dog Sledding in Mammoth
Jack Frost has officially returned to the Sierra Nevada, and locals can hardly contain their excitement—it seems like everyone is preparing for a season of skiing, snowboarding, and dog sledding here at Snowcreek Resort. No matter how you choose to enjoy the snow, you'll surely agree that nothing is more beautiful than Mammoth Lakes during winter. For an effortless way to ride on Mammoth Lakes' snow, slip into the back of a luge, and let the local husky sled dogs pull you around. Dog Sledding history claims that mushing was the sole reliable form of winter transportation before there were snow tires and snowmobiles. Dog sledding in Mammoth Lakes is still around because of mushers who continue this long-established tradition. While some mushers pursue dog sledding by upholding a socialized kennel and running dog sled rides, other mushers revel in competitive dog sledding races. You'll quickly discover that dog sledding in Mammoth Lakes is a one-of-a-kind adventure.
Where Should I Go Dog Sledding Near Me?
Choosing where to have your dog sledding experience can be tough, especially because there are several options to choose from near our vacation rentals. Although, our team has selected the best facility for dog sledding in Mammoth Lakes so there's no need for guests to search for "dog sledding near me."  After browsing our recommended dog sled tours, you'll surely find an option to meet your budget and interests.
Mammoth Dog Teams
Location: Meet at the Smokey Bear Flat, off of Highway 395
Dog Sled Tours: This attraction offers daytime and overnight dog sled tours. 
Smokey's Tour: Adults cost $95 and children cost $55. The ride is 50 min.

Smokey's Run: Adults cost $185 and children cost $90. The ride is 1 hour and 45 min.

Overnight Tour: For an all inclusive package, adults cost $950 and children cost $650
Why should you choose Mammoth Dog Teams? We recommend our guests experience dog sledding in Mammoth with the Mammoth Dog Teams' staff because their tours can be tailored to guests of all skill sets and comfort levels. 
Snowcreek Resort
You'll likely get cold when dog sledding in Mammoth Lakes. The athletic dogs love to run and tend to reach high speeds, which can make for a chilly ride. Luckily, all of our vacation rentals have a fireplace for you to warm up your fingers and toes. Our charming properties are the perfect lodging option for every guest. Start searching for your dream vacation rental today by visiting our website, or talking to our staff at 800-544-6007.