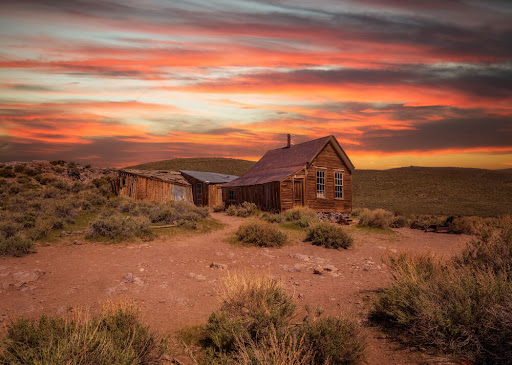 Haunted Places in California Near Mammoth Lakes
With Halloween right around the corner, there is no better time to visit the haunted places in California near Mammoth Lakes! From tales of apparitions to inexplicable phenomena and abandoned mining towns, the Eastern Sierra is the place to be this Halloween season. Snowcreek Resort invites you to discover the legends of ghosts at Bodie State Historic Park, the supernatural sightings at Yellowstone, and the spookiest places in Mammoth Lakes! 
Haunted Places in Mammoth Lakes
There are several places right here in Mammoth Lakes rumored to be haunted! Backpackverse has put together a blog, Camp at One of These 10 Haunted Mammoth Lakes Spots, offering a fantastic introduction to creepy tales! 
Listen to the Smells Like Teen Spirits podcast episode by Spooked, and learn about the frightening tale of the Mammoth Mountain Poltergeist! 
Bodie State Historic Park
Fall is the best time to make the one-hour drive to Bodie State Historic Park, a genuine California gold-mining ghost town. In the late 19th century, the town was home to nearly 10,000 residents, and more than 200 buildings remain in arrested decay today. Keep in mind the park is open from May-October and is accessible on Hwy. 270. 
Ghost Stories
Join one of the Bodie Ghost Walks this September and explore the town after hours while hearing stories of historical tales and ghost sightings! Hear about the Bodie Curse, a legend that heeds visitors from taking anything from the site lest they be cursed with bad luck. It's also said that the home of J.S. Cain is one of the most haunted places on the property, with many reported sightings of a ghostly apparition.
Yosemite National Park
As one of the largest National Parks in the country, it should be no surprise that Yosemite is home to its fair share of legends, ghost stories, and supernatural sightings. Discover one of the most haunted places in California, just a 45-minute drive from Mammoth Lakes. 
Yosemite Legends
One of the oldest ghost stories in Yosemite is that of the Grouse Lake Ghost, first documented by a park ranger in 1857. The famous Ahwahnee Hotel has reported endless supernatural sightings over the years, including that of John F. Kennedy! Read the National Park Service article on "The Weird and the Wonderful" sightings in Yosemite before your visit! 
Book Your Fall Getaway with Snowcreek Resort
Discover the most haunted places in California near Mammoth Lakes during your upcoming fall getaway. Get in the spirit of the season with Snowcreek Resort, set against panoramic views of the Eastern Sierra. Discover our Mammoth Lakes vacation rentals and find the perfect property for your vacation today!